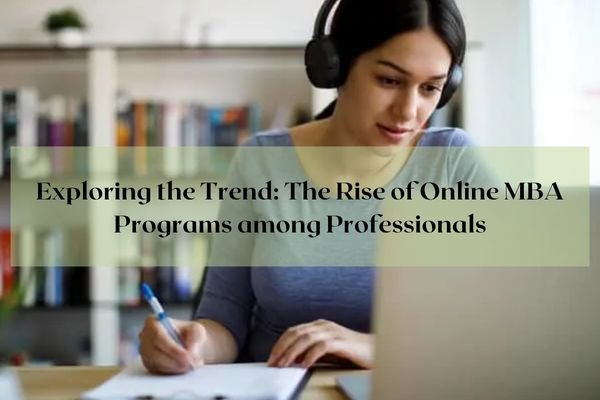 Exploring the Trend: The Rise of Online MBA Programs among Professionals
The popularity of online MBA programs, also known as distance learning or e-learning MBA, has grown significantly in recent times. The growth of online education has provided professionals the opportunity to obtain their degrees through online MBA courses without having to sacrifice their current employment or personal obligations.
Given that management skills are crucial in today's industries, it is important to familiarize yourself with the best online MBA programs 2023 practices, principles, and organizational management techniques, along with leadership skills and other related topics.
If you are considering earning a degree through a distance learning MBA, it's crucial to understand why online courses are important, what opportunities they can offer, and how they can benefit you. 
Online MBA Programs
Here are the top 4 reasons you should pursue an Online MBA program:
Learning Management Skills:
Among many of the benefits of an online MBA, the development of management skills tops the list. Earning an online MBA degree can greatly enhance an individual's management skills by providing them with a comprehensive education in various aspects of organizational management. Online MBA programs typically cover topics such as leadership, financial management, marketing, operations, and strategy, which are all essential components of effective management.
Worldwide Business Network
The online format of the e-learning MBA program often leads to a diverse student body, which can expose students to different perspectives and cultures. Online MBA courses also usually provide opportunities for virtual collaboration and networking, allowing students to connect and engage with other business professionals from around the world.
High-paying Jobs
Opting for an Online MBA program can lead to high-paying jobs in various industries such as finance, technology, consulting, healthcare, and others. Some of the common high-paying jobs for individuals with an online MBA include Chief Executive Officer (CEO), Chief Financial Officer (CFO), Chief Information Officer (CIO), Management Consultant, Investment Banker, Marketing Director, Healthcare Executive, and many more positions.
Specialization:
Yes, one of the benefits of pursuing an online MBA program is the ability to specialize in a particular area of interest. Some of the most common specializations include Finance, Marketing, Human Resource Management, Supply Chain Management, Entrepreneurship, etc.
By specializing in a particular area through top online MBA programs, students can tailor their MBA education to their career goals and interests, which can increase their value to potential employers and lead to better job opportunities.
Conclusion
In conclusion, earning a virtual MBA degree through online MBA programs can offer numerous benefits for professionals. From the flexibility and convenience of distance learning to global networking and specialisation, online MBA programs are a great option for those looking to further their careers. To find the best online MBA program for you, consider online MBA rankings and choose an accredited online MBA program.
Enquire Now