Online MBA In International Business Management Programme DY.Patil University Navi Mumbai
Online (MBA in International Business Management) Business today is moving at high speed; having the knowledge and finesse to manage companies that operate in the global sphere is becoming paramount. This makes Business Administration more dynamic. The ODLMBA in International Business is a leading-edge program that conditions students personally and professionally to meet the demands of society. The ODL MBA in International Business is one of the most strategic and fundamental programs taught in English which is having an impact on the very way business is taught and the curriculum, graduating accountable, innovative, global leaders able to make a mark in business.
ODL MBA in International Business keeps sustainable practices and business ethics at the forefront of the program. Fostering an entrepreneurship mindset, strong leadership skills, and innovative problem-solving tools are the top distinguishing factors that make graduates highly marketable. DYPUSODL utilizes technology, innovative teaching techniques, case studies, situational analysis, simulation activities, and practical workshops that promote growth and development.
The ODL MBA in International Business envelopes managerial and analytical systems, such as operations management, accounting, economics, politics, and strategic management.
Our Master in Business Administration program will provide you with the strategic, financial, and people skills you'll need to progress and perform effectively at senior levels.
The program combines management theory with real business applications. From day one you'll be able to apply new knowledge and skills in your workplace. You will develop a broad foundation of knowledge in core modules, and focus your studies around a particular sector or discipline in elective modules.
The flexibility of the Distance Learning MBA allows you to study at your own convenience with our new Virtual Learning Environment, and we provide live online sessions with tutors that help you contextualise your learning.
Eligibility
10th (SSC) Statement of Marks
12th (HSC) Statement of Marks
Degree Certificate & Last Year / Semester Statement of Marks
Photo ID Proof (PAN card / Passport / Driving License / Election Card )
Aadhaar Card
Passport Size Photograph (not more than 3 months old)
Self Declaration on Rs. 100 stamp paper
Career Prospects
International Marketing Manager. 
International Product Manager. 
Finance Analyst.
Business Development Manager.
Research Analyst.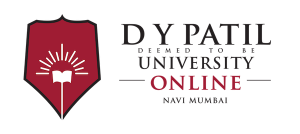 About DY Patil University Navi Mumbai
Welcome to D. Y. Patil University, a place that is not only happening in all respects but also offers cerebral delights that ensure a refined and enriching life experience, that leads to the achievement of the desired goals and aspirations. You are here to scale new heights and reach the pinnacle of success and accomplishments. D. Y. Patil Deemed to be university is renowned for its academic excellence and innovative teaching methodology. Education and learning imparted here are world-class, coupled with excellent infrastructural facilities. The renowned philanthropist educationalist Dr. D. Y. Patil has contributed significantly to expanding and raising the level of education and healthcare in India. A truly world-class educational institution with solid-state of the art infrastructure, D .Y. Patil University stands to be one of the best in the country.
Total Fee
INR 1,60,000/-
Inclusive of all taxes
Fee Per Semester
INR ₹40,000/-
Inclusive of all taxes
No Cost EMI Available
Offering easy financing with no-cost EMI to help you effortlessly fund your education.