Online MBA In Marketing Management Programme Jain University Bangalore
Online (MBA in Marketing Management) The current millennium has unfolded new business rules, the most significant of them being that past history or experience in a given product market is no indicator of future success. Market leadership cannot be taken for granted because customer loyalty does not exist anymore. In an era of global trends defining buying decisions, the customer today has a much wider choice; a buyer does not have to adhere only to the locally available brands/services. Given the plethora of television channels, apart from internet marketing and teleshopping, this millennium's customer wants and enjoys being wooed by marketers. Over a period, wooing and cajoling the customer will only intensify. In the traditional selling concept, the main strategy of the company is to find customers for the product manufactured by them and "somehow" convince the customer into buying their product. The approach is through aggressive sales & sales promotion tools with a lot of emphasis on closing the sale even if it means cutting down on prices. As a contrast to this, the Marketing concept emphasizes the importance of consumer needs & behaviour. The approach is to first understand the consumer needs & then approach him with an objective of satisfying him as the most important pursuit. The emphasis is on maximizing profits through consumer satisfaction rather than through just sales maximization. The aim of marketing is to understand the consumer and his needs so well that the product or service so developed should sell by itself. All that is required is to make customer satisfaction as an integral part of the company strategy. In this situation, the knowledge of marketing concepts has become unbelievably valuable to the organisations to fight it out in a churning marketplace. This has resulted in a huge demand for online MBA marketing programs and the career growth of marketing professionals has been exponential in most organisations. Most CEOs and senior management executives in organisations in highly competitive markets are invariably from marketing backgrounds.
Eligibility
Pass in an Undergraduate (Bachelor) Program of a minimum duration of Three (3) years in any stream from a UGC recognized University, with a
minimum aggregate of 50% or an equivalent letter/numerical grade. A relaxation of 5% shall be given to SC/ST candidates.
Candidates who are in the final semester of the Bachelor Program are also eligible to apply.
Career Prospects
Marketing Manager
Media Planner
Copywriter
Promotion Manager.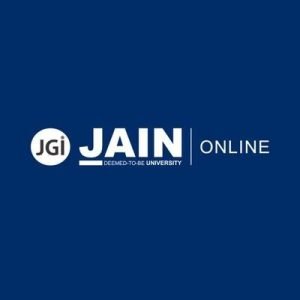 About Jain University Bangalore
JAIN (Deemed-to-be University) ranked among the top universities in India and considered a cerebral destination for students across the world with NAAC 'A' Accredited  in particular, University is  a hub for learning in every sense of the word. The University offers a conducive environment for learning, be it academically or through extracurricular activities. Known for its emphasis on education, entrepreneurship, research and sports, JAIN (Deemed-to-be University) has some of the best minds in the educational and research fields, and centers that inspire entrepreneurship and groundbreaking work to simplify and manage life better.
What makes the University different is its outlook towards life, its values and beliefs. Its ever-evolving and open-minded system and quest for continued success and resilience, has made it one of the top universities in India.
Total Fee
INR 140,000/-
Inclusive of all taxes
Fee Per Semester
INR ₹35,000/-
Inclusive of all taxes
No Cost EMI Available
Offering easy financing with no-cost EMI to help you effortlessly fund your education.