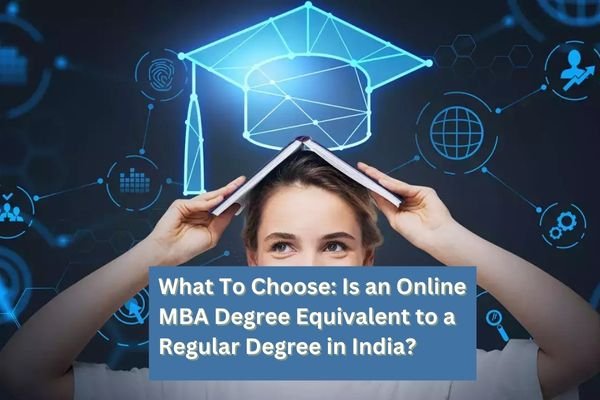 What To Choose: Is an Online MBA Degree Equivalent to a Regular Degree in India?
Online MBA degrees have become increasingly popular in India as they offer the flexibility and convenience of studying from anywhere and anytime. In addition, the advancement of technology has led to the rise of online education, and pursuing an MBA degree online is one of the most sought-after degrees that can be followed online. However, the question remains, is an online MBA degree equivalent to a regular degree in India?
Online Vs. Regular MBA
Recognition of Online MBA Degrees:
In India, MBA Degree Online is recognized by the Distance Education Council (DEC), which is a regulatory body for distance education in India. Therefore, DEC-recognized universities and institutions are allowed to offer MBA degrees through distance mode. However, it is important to note that not all online MBA programs are DEC-recognized. Therefore, ensuring that the institution and program you choose are DEC-approved is crucial.
Quality of Education:
The quality of education offered in online MBA programs is often comparable to that of regular MBA programs. The curriculum and syllabus are typically the same, and the same faculty members may be involved in teaching both online and regular MBA programs. 
Additionally, online MBA programs often include interactive elements, such as virtual classes and online discussions, to ensure students receive a well-rounded education.
Flexibility and Convenience:
Among Online Vs. Regular MBA one of the major advantages of doing an MBA Degree Online is the flexibility and convenience it offers. Online MBA programs are self-paced and can be completed from anywhere, making them ideal for working professionals who want to continue their education while balancing their work and personal responsibilities.
Employment Opportunities:
An online MBA degree is considered to be equivalent to a regular MBA degree when it comes to employment opportunities. This is because graduates of online MBA programs are eligible for the same job positions and have the same earning potential as graduates of regular MBA programs. However, some employers may prefer candidates with degrees from traditional brick-and-mortar universities.
CONCLUSION
Before enrolling in an online MBA program, it's important to ensure that the institution and program are accredited by one of these bodies.
In summary, Online Vs. Regular MBA, an online MBA degree from a reputable and accredited institution, can be equivalent to a regular degree in India, provided that the program is of good quality. Therefore, verifying the institution's accreditation and the program's quality is crucial before enrolling in an online MBA program.
Enquire Now