Online MBA In Entrepreneurship Management Programme DY.Patil University Navi Mumbai
Online (MBA in Entrepreneurship  Management) Drawing from the vast culture of innovation and entrepreneurship at D Y Patil University, this unique course introduces participants to DYPU SODL's entrepreneurial education programs, technology transfer system, and global entrepreneurial network. It covers the entire venture creation process, from generating ideas to building viable global businesses, with a special emphasis on the nurturing roles of corporations, universities, governments, and foundations.
This program leverages DYPU's culture of high-tech entrepreneurship to help entrepreneurs, corporate venturing executives, start-up companies, and others involved in entrepreneurial environments learn what they need to develop ideas into successful businesses, and how to increase entrepreneurial opportunities in their corporations, institutions, and regions.
Through lectures by senior faculty and live case studies with successful entrepreneurs, participants will be exposed to the content, context, and contacts that enable entrepreneurs to design and launch successful new ventures based on innovative technologies. Specially designed projects give participants hands-on training and practical experience developing a business plan while networking events bring participants together.
Eligibility
10th (SSC) Statement of Marks
12th (HSC) Statement of Marks
Degree Certificate & Last Year / Semester Statement of Marks
Photo ID Proof (PAN card / Passport / Driving License / Election Card )
Aadhaar Card
Passport Size Photograph (not more than 3 months old)
Self Declaration on Rs. 100 stamp paper
Career Prospects
Business Consultant.
Sales. 
Research and Development.
Not-for-Profit Fundraiser. 
Teacher. 
Recruiter. 
Business Reporter.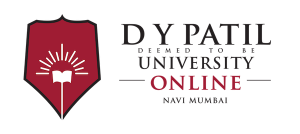 About DY Patil University Navi Mumbai
Welcome to D. Y. Patil University, a place that is not only happening in all respects but also offers cerebral delights that ensure a refined and enriching life experience, that leads to the achievement of the desired goals and aspirations. You are here to scale new heights and reach the pinnacle of success and accomplishments. D. Y. Patil Deemed to be university is renowned for its academic excellence and innovative teaching methodology. Education and learning imparted here are world-class, coupled with excellent infrastructural facilities. The renowned philanthropist educationalist Dr. D. Y. Patil has contributed significantly to expanding and raising the level of education and healthcare in India. A truly world-class educational institution with solid-state of the art infrastructure, D .Y. Patil University stands to be one of the best in the country.
Total Fee
INR 1,60,000/-
Inclusive of all taxes
Fee Per Semester
INR ₹40,000/-
Inclusive of all taxes
No Cost EMI Available
Offering easy financing with no-cost EMI to help you effortlessly fund your education.