Online MBA In Human Resource Management Programme DY.Patil University Navi Mumbai
Online (MBA in Human Resource Management)
The DY Patil University online MBA in Human Resource Management (HRM) helps you grow the success of your company or organization. You'll focus on current and emerging HRM best practices, as well as learn from a foundation of core business courses. You'll gain HR skills that can be applied to real-life business challenges. Plus, you can use a strategy that aligns accurately and ethically with a company's business objectives.
Earning an MBA in Human Resource Management can launch successful careers in a variety of industries ranging from educational institutions to corporate, industries and Multinational corporations as Compensation Manager, Manager of Employee Relations, HR Generalist, Technical Recruiter, Director of Staff, Placement Manager, Training and Relations Manager, Organisational Consultant and more.
Educational institutions offer this degree worldwide. On-site and online programs offer flexibility and convenience for working professionals.
Be a human resource leader.
Eligibility
10th (SSC) Statement of Marks
12th (HSC) Statement of Marks
Degree Certificate & Last Year / Semester Statement of Marks
Photo ID Proof (PAN card / Passport / Driving License / Election Card )
Aadhaar Card
Passport Size Photograph (not more than 3 months old)
Self Declaration on Rs. 100 stamp paper
Career Prospects
Human resources assistant.
Benefits administrator.
Payroll specialist.
Training coordinator.
Compensation specialist.
Training manager.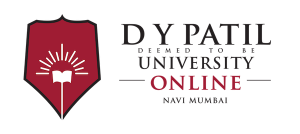 About DY Patil University Navi Mumbai
Welcome to D. Y. Patil University, a place that is not only happening in all respects but also offers cerebral delights that ensure a refined and enriching life experience, that leads to the achievement of the desired goals and aspirations. You are here to scale new heights and reach the pinnacle of success and accomplishments. D. Y. Patil Deemed to be university is renowned for its academic excellence and innovative teaching methodology. Education and learning imparted here are world-class, coupled with excellent infrastructural facilities. The renowned philanthropist educationalist Dr. D. Y. Patil has contributed significantly to expanding and raising the level of education and healthcare in India. A truly world-class educational institution with solid-state of the art infrastructure, D .Y. Patil University stands to be one of the best in the country.
Total Fee
INR 1,60,000/-
Inclusive of all taxes
Fee Per Semester
INR ₹40,000/-
Inclusive of all taxes
No Cost EMI Available
Offering easy financing with no-cost EMI to help you effortlessly fund your education.