Online MBA In Sales And Marketing Management Programme DY.Patil University Navi Mumbai
Online (MBA in Retail Management) Businesses rely on sales, and those with the expertise to increase sales. This degree, delivered 100% online, will teach you how to oversee a successful sales strategy, focused on maintaining positive relationships with customers. It covers theories that are central to sales and marketing management and asks you to apply them to real-life organisations so you can see how they work in practice. The knowledge and skills you acquire in this program will enable you to create and evaluate detailed sales strategies, using various data collection methods. What you learn will mirror the latest trends and thinking in the business world, so you will immediately become invaluable to your next employer.
You already know this: a sales and marketing career is a thrilling roller coaster ride. Your days are packed with carefully-planned research, planning, and networking as you work towards the all-important pitch — and then, with a heady mix of persuasion, statistics, and adrenaline (and sometimes even a little bit of luck), you seal the deal.
Our Master of Business Administration degree in sales and marketing gives you the opportunity to compound the sales skills you've learned in the field. An MBA in sales and marketing allows you to formalize the sales and marketing intuition you've sharpened with the experience of a hundred pitches, a thousand handshakes, and countless emails, calls, and follow-ups.
Apply decades of institutional sales and marketing theory to the hard-earned knowledge you've already carved out for yourself, and position yourself to go after the biggest prizes in your industry. You'll also be set to claim the executive positions that give you a chance to lead a team of hungry sales professionals who — like you — are looking for that opportunity to shine.
Eligibility
10th (SSC) Statement of Marks
12th (HSC) Statement of Marks
Degree Certificate & Last Year / Semester Statement of Marks
Photo ID Proof (PAN card / Passport / Driving License / Election Card )
Aadhaar Card
Passport Size Photograph (not more than 3 months old)
Self Declaration on Rs. 100 stamp paper
Career Prospects
Digital Marketer.
Sales Development
Account Executive 
Outside Salesperson.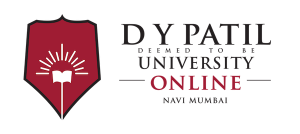 About DY Patil University Navi Mumbai
Welcome to D. Y. Patil University, a place that is not only happening in all respects but also offers cerebral delights that ensure a refined and enriching life experience, that leads to the achievement of the desired goals and aspirations. You are here to scale new heights and reach the pinnacle of success and accomplishments. D. Y. Patil Deemed to be university is renowned for its academic excellence and innovative teaching methodology. Education and learning imparted here are world-class, coupled with excellent infrastructural facilities. The renowned philanthropist educationalist Dr. D. Y. Patil has contributed significantly to expanding and raising the level of education and healthcare in India. A truly world-class educational institution with solid-state of the art infrastructure, D .Y. Patil University stands to be one of the best in the country.
Total Fee
INR 1,60,000/-
Inclusive of all taxes
Fee Per Semester
INR ₹40,000/-
Inclusive of all taxes
No Cost EMI Available
Offering easy financing with no-cost EMI to help you effortlessly fund your education.