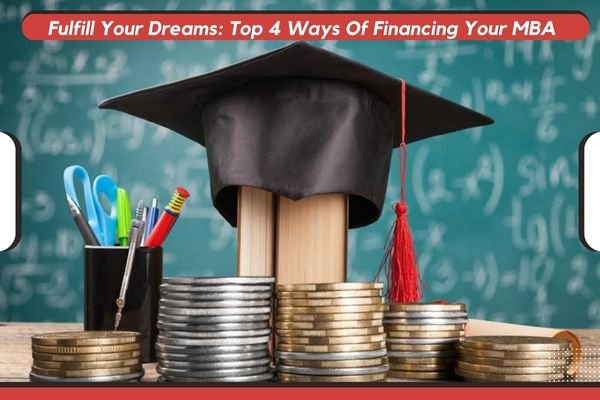 Top 4 Ways Of Financing Your MBA: Fulfill Your Dreams
Top Ways Of Financing Your MBA
if you are determined and excited enough to pursue your dream MBA course, we have found some ways of finance your MBA program.
Is the sole reason you are shying away from applying to that MBA program the fear of paying hefty fees? As per the statistics from the 2022 Financial Times MBA Ranking, it costs up to Rs.15,386.96 to study MBA in the top 20 business schools globally. This figure can be overwhelming for a lot of you. 
There are ample funding possibilities in both conventional and non-conventional ways. Here are some details on the most common ways of finance your MBA studies:
Top 4 Ways Of Financing Your MBA 
1.Scholarships And Grants:
Many business schools like Jain Bangalore , Manipal Jaipur , and Lovely Professional Punjab offer scholarships and grants to students based on merit or financial need. If you qualify, these can be good ways of finance your MBA,  
2.Private Student Loans:
Another way of finance your MBA is through these loans are non federal loans, made by a lender such as a bank. These loans typically have lower interest rates and more flexible repayment options . They are typically offered through the liquiloans , Financepeer 
3.Employer Assistance:
Some employers offer tuition assistance or reimbursement for employees pursuing an MBA. This can be a way of finance your MBA if you are currently employed, and your employer is willing to support your education. If you are considering employer assistance for your MBA, it's important to carefully consider the terms and conditions of the program and how it will impact your career plans. You can also speak with a financial aid advisor at the business school you are applying to help you understand the costs and risks associated with this.
4.Crowdfunding And Networking:
There are many scenarios where students have successfully used crowdfunding platforms to raise money for their MBA. This can be a good way of finance your MBA if you have a large network of friends, family, and contacts willing to support your education. Also, make sure to research and compare platforms to find the one that is the best fit for your needs.
Conclusion
It's important to carefully consider all of your options and choose the financing method that works best for you. The way of finance your MBA and the potential return on investment will play a critical role in your decision to pursue an MBA, alongside selecting the institution and location. To make the greatest decisions, make sure you carefully weigh all your possibilities