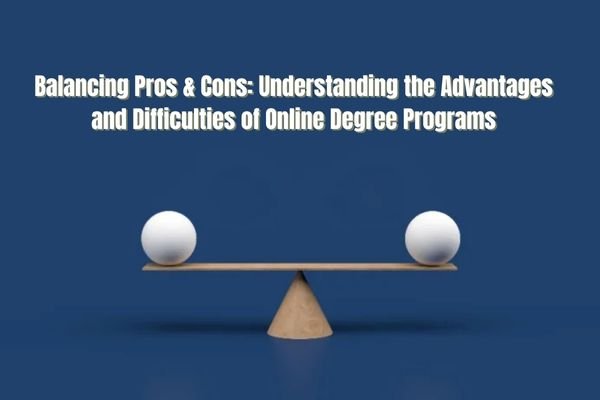 Balancing Pros & Cons: Understanding the Advantages and Difficulties of Online Degree Programs
Understanding the Advantages and Difficulties of Online Degree Programs: – Online degree courses offer a flexible and convenient alternative to traditional on-campus education. However, like any other educational format, online education has its own set of advantages and challenges. 
This article aims to provide a comprehensive understanding of the benefits and difficulties of taking an online degree course. By exploring both the positive and negative aspects of online education, you can make an informed decision on whether this format is right for you and how to successfully navigate your online degree program.
Benefits of Taking a Course Online:
Customizable learning:
Online courses will allow you to set your own pace and schedule, making it easier to balance your work and other commitments. Customizable learning enables you to have increased student engagement, motivation, and outcomes, as well as improved access to education.
Wide range of specializations:
Online learning opens access to a wider range of specializations and niche areas of study that may not be available locally. Colleges like LPU and Manipal University offer a wide range of online courses like Business: MBA, finance, management, marketing, etc.
Increased access to resources:
Online courses may provide access to a wider range of resources and materials, including digital libraries and multimedia learning tools. They are typically available to you as a student at any time, allowing you to study when it's convenient.
Access to a global student community:
Online courses allow you to connect with a global student community, providing opportunities for cross-cultural exchanges and diverse perspectives. It enables you to get trained with valuable technology and digital tools, providing you with skills that can be applied in your careers.
Challenges of Studying Through Distance Learning:
Lack of in-person interaction:
Online courses can be isolating and lack the social interaction of on-campus courses. Moreover, it restricts you from having any feedback. In an online setting, instructors may not be able to provide as much immediate feedback as they would in a traditional classroom setting.
Self-motivation:
Online learning requires a high level of self-motivation and discipline, as students are responsible for keeping up with coursework on their own. To be successful in an online degree program, you must have a high level of self-motivation and be able to manage your time effectively. This requires setting goals, creating a study schedule, and sticking to it, as well as actively seeking out support and resources when needed.
Technical difficulties:
Technical issues, such as slow internet connection or computer problems, can disrupt learning and lead to frustration. Computer problems, such as compatibility issues or software glitches, can prevent you from accessing course materials, submitting assignments, or participating in online discussions. This can limit your ability to fully engage with the course content and your peers and make it challenging to stay on track with your studies.
Limited access to resources:
If you are studying online, you may have limited access to resources such as libraries, laboratory facilities, hands-on learning experiences, and academic and career support services, such as career centers, academic advisors, and tutoring services. This can make it challenging for you to get the help they need to succeed in your coursework or pursue your career goals.
Understanding the Advantages and Difficulties of Online Degree Programs
Conclusion
In conclusion, online degree courses offer a convenient and flexible alternative to traditional on-campus education, but you also have your own challenges. It is important for you as a student to weigh the benefits and challenges before deciding whether online learning is right for them.
Having trouble making the decision, book a one-on-one consultation session with www.peoplesmart.in
Enquire Now