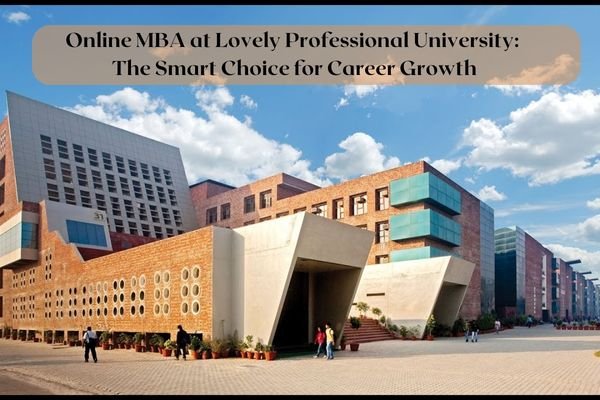 Online MBA at Lovely Professional University: The Smart Choice for Career Growth
Lovely Professional University, world of business is constantly evolving, and as a working professional, it's essential to stay ahead of the curve. Pursuing an MBA degree can help you acquire the knowledge and skills necessary to succeed in today's competitive business environment. However, finding the time to attend a traditional MBA program can be challenging for those with busy work schedules. This is where Lovely Professional University's Online MBA program comes in. 
With its flexible, accessible, and affordable education, LPU's Online MBA program is the perfect solution for professionals seeking to enhance their careers without sacrificing their work commitments. Get a quick understanding of why Lovely Professional University can be your idle choice to advance your career. Together, we'll delve into the top 10 reasons you should consider LPU's Online MBA program for your career advancement.
10 Reasons to Consider Lovely Professional University's Online MBA Program for Your Career Advancement
Reason 1: Flexibility
One of the key benefits of LPU's Online MBA program is its flexibility. The program allows you to learn at your own pace and convenience. This means that you can continue to work while pursuing your MBA degree without compromising on the quality of your education.
Reason 2: Customization
The Online MBA program at LPU is designed to be customizable to fit your specific career goals. You can choose from a range of specializations, such as Marketing, Finance, Human Resource Management, Information Technology, International Business, Operations Management, Retail Management, and Entrepreneurship.
Reason 3: Affordable
The LPU Online MBA program is an affordable option compared to traditional MBA programs. The program fee is comparatively lower, and you also save on costs such as transportation, accommodation, and other expenses associated with attending a physical campus.
Reason 4: Accreditation
Lovely Professional University is accredited by the University Grants Commission (UGC) of India, and its Online MBA program is recognized by the Distance Education Bureau (DEB). This accreditation ensures that your degree is recognized by employers and other universities.
Reason 5: Industry-Relevant Curriculum
The Online MBA program at Lovely Professional University is designed to provide students with a curriculum that is relevant to current industry trends and practices. The program's curriculum includes case studies, projects, and assignments that are aimed at providing hands-on experience to students.
Reason 6: Experienced Faculty
Lovely Professional University Online MBA program has a team of experienced faculty members who bring their industry experience and knowledge to the classroom. This ensures that students receive a high-quality education that is both relevant and practical.
Reason 7: Global Exposure
LPU's Online MBA program provides students with the opportunity to interact with students and faculty from around the world. This exposure helps students develop a global perspective and prepares them for careers in the global business environment.
Reason 8: Networking Opportunities
The Online MBA program at LPU provides students with ample networking opportunities. Students can interact with industry professionals and alumni through guest lectures, workshops, and events. These interactions help students build a network of contacts that can help them advance their careers.
Reason 9: Career Services
LPU's Online MBA program provides students with career services that are aimed at helping them advance their careers. The program's career services team provides students with job placement assistance, resume building, interview preparation, and other career-related services.
Reason 10: Recognition and Awards
LPU has received numerous awards and recognition for its Online MBA program. The program has been ranked among the top 10 distance education MBA programs in India by Business Today and has received the DNA Innovative B-School Award.
Conclusion:
LPU's Online MBA program provides working professionals with an affordable, flexible, and high-quality education that is designed to meet their career goals. The program's industry-relevant curriculum, experienced faculty, global exposure, networking opportunities, and career services make it an ideal choice for professionals looking to advance their careers. If you are considering pursuing an MBA degree, we highly recommend the Online MBA program at Lovely Professional University.
Enquire Now